Online house-hunting peaks on Tuesdays, says Rightmove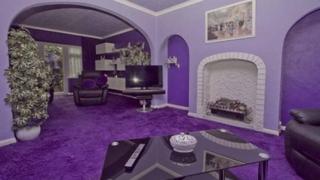 The busiest time of the week for house-hunting on the internet is Tuesday lunchtime, according to internet property portal Rightmove.
It said traffic during 2013 peaked between 12:00 and 13:00 GMT, but the busiest time for house searching on mobile phones was 20:00 GMT on Sundays.
The most viewed property was a house in Middlesex dubbed the "Purple House". It is no longer on the market.
It was viewed about three million times in November.
Three of the properties that made it into the five most-viewed were multi-million pound properties in London.
They included a 15-bedroom Edwardian mansion in Hampstead Garden Suburb, with an asking price of £65m. It features a gym, swimming pool, home cinema and tennis court.
The fifth on the list was a newly-completed, seven-bedroom home in Newcastle with a nine-car garage.
The data comes as those who do not own their own home, but rent privately, were told that the cost of being a tenant was rising slower than the general level of inflation.
The cost of renting a home in England and Wales was up 1.6% in 12 months, according to LSL Property Services. Tenants were faced with an average monthly bill of £753 in December.
"Economic reality now resembles the most optimistic dreams of last year. But for so many households, the dream of home ownership is still relegated to the imagination," said David Newnes, director of LSL.
However, the survey did conclude that rents had fallen in many regions towards the end of the year.