Mortgage lending not at boom level, says CML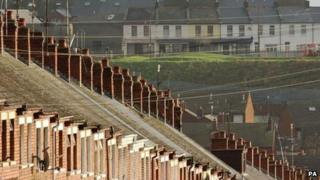 UK mortgage lending was higher than expected in 2013 but still well below the level seen in the housing boom, lenders say.
Figures from the the Council of Mortgage Lenders (CML) showed that lending dipped slightly in November.
Gross lending for home loans stood at £17bn in November, down from £17.6bn a month earlier, the data shows.
But it was still 30% up on the same month a year ago, an indication of the acceleration in market activity.
"Gross lending for 2013 looks set to reach £170bn - higher than the £156bn we originally forecast, but still a far cry from the £363bn experienced at the height of the lending boom in 2007," said CML chief economist Bob Pannell.
The peak of 2007 - in terms of mortgage lending - is not expected to be reached anytime soon, according to lenders and commentators.
"Lenders are far more cautious than they were back then. Underwriting is tighter and borrowers are having to jump through many more hoops before they can secure funding," said Jonathan Harris, director of mortgage broker Anderson Harris.
Ashley Brown, director of mortgage broker Moneysprite, said: "It feels like a booming market but we are still way below the historical norm. That's how bad things got."