Zero-hours contracts: Cable rules out complete ban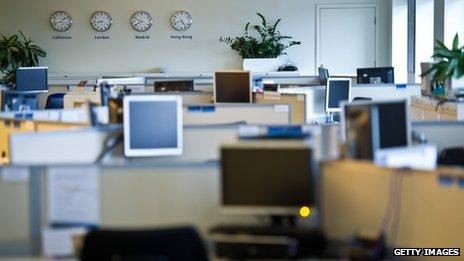 Business Secretary Vince Cable has ruled out a complete ban on zero-hours contracts, saying they offered employers "welcome flexibility".
Launching a consultation on their use, Mr Cable said the contracts had a place in the labour market even though there had been evidence of abuse of rights.
Companies could be barred from having "exclusivity contracts" that stop people working for another firm.
Zero-hours contracts do not guarantee regular work for employees.
The consultation will last 12 weeks.
Business leaders welcomed the move not to ban zero-hours contracts but union bosses said the government was "desperately short on solutions" to restrict their use.
Mr Cable told the BBC up to one million people could be using zero-hour contracts.
But he said the estimates were "wildly varying", as a lot of people "did not know" if they were on the contracts, since there was often no formal structure in place.
He said he wanted employers to be clearer about the agreements, so people could see what the constraints of their contracts were.
Mr Cable added he was "minded to ban the exclusivity ones [contracts]".
The business secretary said: "We do not believe zero-hours contracts are bad in themselves."
People with young families or students could benefit from the flexibility, he said.
But Mr Cable said it was "clear" that for other people, there had been evidence of abuse around the contracts, which can offer limited employment rights and job security.
"We believe they have a place in today's labour market and are not proposing to ban them outright, but we also want to make sure that people are getting a fair deal," he added.
People should not be "tied to one employer" if it stopped them boosting their income when they were not earning enough to make a living, he said.
He said he wanted to give employees and employers more guidance and advice about the contracts.
Mr Cable said employers' need for flexible workforces should not be at the expense of fairness and transparency.
The British Chambers of Commerce welcomed the government's consultation.
Head of employment John Wastnage said: "Zero-hours contracts are valued by many workers and employers, but there isn't a clear definition of what they are or how they should work."
Alexander Ehmann, of the Institute of Directors, said: "This consultation underlines how important a varied and flexible labour market is to our economy, and quite how out of touch those arguing for an indiscriminate ban on this casual form of work were."
But Chuka Umunna MP, Labour's shadow business secretary, said Labour would ban what he called the "exploitative use" of zero-hours contracts.
He added: "We would ban employers from insisting zero-hours workers be available even when there is no guarantee of any work, end zero-hours contracts that require people to work exclusively for one business, and make sure contracts properly reflect people's regular working hours."
Frances O'Grady, general secretary of trade union organisation the TUC, said: "The growth of zero-hours contracts is one of the reasons why so many hard-working people are fearful for their jobs and struggling to make ends meet, in spite of the recovery.
"But while the government has identified some of the problems faced by those with zero job security, it's desperately short on solutions to curb the use of these contracts."
Zero-hours contracts mean employees only work as and when they are needed by employers, often at short notice, and are only paid for the hours they work.
Some of these contracts oblige workers to take the shifts they are offered, others do not.
Sick pay is often not included although holiday pay should be, in line with working time regulations.
According to Office for National Statistics figures, 250,000 workers are on zero-hours contracts, about 1% of the UK workforce.
Related Internet Links
The BBC is not responsible for the content of external sites.