Saab wins $4.5bn Brazil fighter jet contract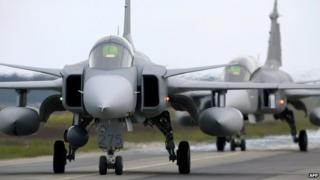 Shares in Sweden's Saab jumped almost 30% after it won a $4.5bn (£2.7bn) deal to supply 36 fighter jets to Brazil.
The deal is one of the most valuable ones in emerging markets and Saab had faced competition from rivals Boeing and Dassault Aviation.
Many had expected Boeing or Dassault to emerge as the winner.
The BBC's Gary Duffy in Sao Paulo says Boeing's cause was not helped by a recent row between the US and Brazil over spying allegations.
The US National Security Agency (NSA) has been accused of intercepting emails and messages from President Dilma Rousseff, her aides and state oil company, Petrobras.
David Fleischer, a political scientist at the University of Brasilia, said that Ms Rousseff "had been favouring the Boeing plane and a lot of people thought she would announce her decision during her state visit to Washington".
"Boeing was very close but then the NSA booted them out of the air," he said.
The spying allegations were made by Rio-based journalist Glenn Greenwald, who obtained secret files from former NSA contractor Edward Snowden.
The claims led to Ms Rousseff cancelling her state visit to Washington, initially planned for October this year.
Brazil had delayed the decision on awarding the contract for many years.
Defence Minister Celso Amorim said the authorities, "took into account performance, the effective transfer of technology and costs - not just of acquisition but of maintenance" while finalising the supplier.
Brazil's decision comes just weeks after Boeing lost out to Lockheed Martin in the run to win a multi-billion dollar fighter jet deal in South Korea.
Boeing had been considered a front runner in that deal as well, until Seoul decided to restart the tender process.
While Saab's shares jumped almost 30% to a five-year high, Dassault's price fell more than 7%. French President François Hollande personally lobbied for Dassault's Rafale jet last week during a state visit to Brazil.
The Rafale has yet to win an order outside France, although it remains front runner to secure a contract with India.