Former BP worker found guilty in Deepwater Horizon case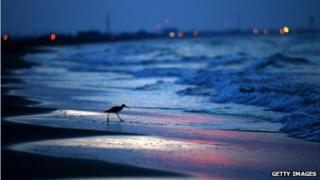 A US Federal jury has found a former BP engineer guilty of deleting text messages from his phone to obstruct an investigation into the 2010 Deepwater Horizon disaster.
Kurt Mix was found guilty on Wednesday of one charge, though acquitted on another.
The April 2010 well explosion killed 11 workers on the Deepwater Horizon rig and led to a huge oil spill in the Gulf of Mexico.
Sentencing will happen in March 2014.
The maximum sentence for this conviction is 20 years in prison and a $250,000 (£152.000) fine.
Mr Mix's lawyers said their client didn't hide anything, and preserved other records which contained the same information as the deleted text messages.
His defence lawyer, Joan McPhee said: "We intend to continue to fight to ensure that justice is done in this case."
Earlier this month, BP's attempts to limit claims over the 2010 Gulf of Mexico oil spill were given a boost after a US appeals court ruled in its favour.
The court voted for an injunction to suspend any further payments to firms that had not suffered losses as a result of the disaster.
BP had argued that the settlement deal it agreed to last year was being misinterpreted, allowing firms that had not suffered harm to claim losses.