US airline Delta says no to mobile phone calls on planes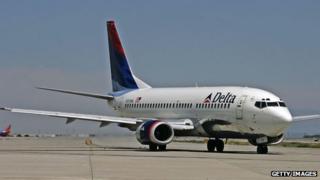 Delta boss Richard Anderson said the airline will ban mobile phone calls on planes even if US regulators allow the technology to be used in-flight.
The Federal Communications Commission (FCC) recently said it would consider lifting its ban on in-flight calls.
Mr Anderson said a majority of Delta's customers who were surveyed indicated calls would be "a disruption to the travel experience".
He added in-flight crews also objected to allowing mobile phones to be used.
"Even as technology advances and as regulations are changed, we will not only consider what we can do, but as importantly we will also consider what is right for our customers and our employees," said Mr Anderson in a memo to staff.
While the FCC has indicated it is open to amending its rules, another US agency - the Transportation Department - has said it is thinking about instituting a ban of its own.
A recent poll by the Associated Press news agency suggested that 48% of Americans opposed allowing mobile phone calls during flights.
Among those who flew at least once last year, it was 59%.