Debenhams asks suppliers to cut prices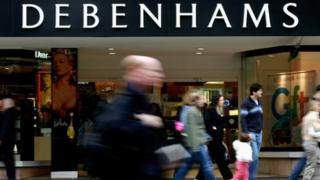 Department store Debenhams has told suppliers of its own brand products to cut their bills by 2.5% as a "contribution" to its investment plans.
It said it would deduct this from all outstanding payments on Tuesday night and would apply another discount of 2.5% to orders open on its system.
Debenhams said its suppliers were benefitting from its investment plans, which include a £25m refurbishment of its flagship store in central London.
Latest figures showed falling profits.
The company said it was not unusual for retailers to ask suppliers for discounts.
But retail analysts said these requests were not generally applied in the final days of the Christmas shopping period.
Its shares, which closed down more than 4% on Tuesday, fell another 1.3% in Wednesday trading.
Simon Herrick, Debenhams' chief financial officer, told suppliers: "As we will mutually benefit from the growth of Debenhams we are now seeking a contribution from our suppliers to support our commitment to on-going investment."
He added that they could discuss the matter if they wished to with the "relevant divisional trading director".
Expansion
The company has been upgrading and modernising stores in recent years, as well as opening new ones.
It plans to open a further 14 stores in the next four years.
This expansion, explains the letter, brings mutual benefits for business growth.
Its last results, for the year to the end of August, showed profits down by 2.7% to £154m.
At the time, it said that it was "cautious about the strength and pace of any consumer recovery in 2014 and expect the marketplace to remain highly competitive".