Europe launches probe into Hinkley Point nuclear plan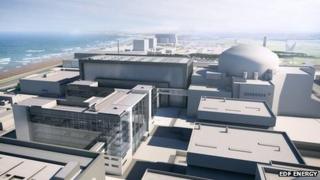 European Union regulators are to investigate whether UK support for a plan to build a new nuclear power plant breaks state aid rules.
French energy giant EDF is leading a consortium building a £16bn plant at Hinkley Point in Somerset.
The UK government has guaranteed power prices from the plant for 35 years.
The European Commission said it wanted the views of third parties because of the unprecedented nature and scale of the Hinkley deal.
It said it had "doubts that the project suffers from a genuine market failure" and it would assess whether the nuclear plant could in fact be built without government support.
EU Competition Commissioner Joaquin Almunia said in a statement: "The Commission therefore needs to investigate thoroughly its impact on the UK and the EU internal energy markets."
The UK's Energy Secretary, Ed Davey, responded by saying the announcement was "standard for large investment projects and was always part of the process for Hinkley".
"We will use this period to demonstrate how the project meets state aid rules and provides good value for consumers while cutting carbon in the energy sector" he added.
Too expensive?
As well as the debate about whether the UK should build any new nuclear plants at all, questions have been raised about the minimum price EDF will be paid for electricity produced at Hinkley Point.
It is scheduled to start producing power in 2023, and the government has guaranteed a price of £92.50 per megawatt hour (Mwh), regardless of what the current market price is at the time.
Earlier this week Ineos, one of the UK's biggest energy consumers, warned that the terms of the Hinkley deal made the power too expensive.
Ineos said it had recently agreed a price of £37.94 (45 euros) per Mwh in France itself.
Chinese investment
When running at full capacity the new Hinkley plant is expected to generate about 7% of the UK's electricity.
The UK is facing a power gap as it closes older facilities and is looking for investors keen to build new power generating facilities, whether nuclear or renewable.
British energy company Centrica was originally planning to build Hinkley Point with EDF but pulled out earlier this year.
EDF was joined recently by two Chinese companies, China General Nuclear Power Group and China National Nuclear Corporation, who plan to take a combined 30-40% stake in the consortium building Hinkley.
For both France and China, the UK represents a promising market to export their nuclear engineering skills to.
France's electricity supply is 75% nuclear-generated, but there is little in the way of a home market at the moment as the country's plants will not need replacing for some years to come.