Eurozone ministers pave way for bank failure fund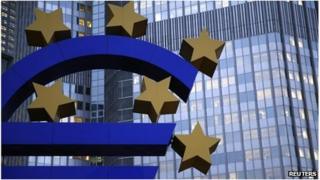 Ministers from eurozone countries have made progress towards creating a bank fund for dealing with failing banks.
Banks will be charged a levy which will build up a 55bn euro (£46.5bn, $76bn) fund over 10 years. If there is not enough money in the pot, national governments can supply funds, or borrow to do so.
Senior figures said the talks, which broke up very early on Wednesday, had made a "crucial breakthrough".
More talks are planned later.
These will include the wider group that will bring in finance ministers from all 28 countries in the European Union, as well as those from the 17 countries that form the eurozone.
Olli Rehn, the EU economic affairs commissioner, said: "We have reached a crucial breakthrough."
The outline plan for a Single Resolution Fund (SRF) is one favoured by Germany, which was keen to avoid leaving taxpayers paying for any future bank bailouts.
It is part of wider efforts to move towards building a banking union and transfer the risk away from small depositors towards shareholders and bond holders of the bank experiencing difficulties.
Banking union
The German Chancellor, Angela Merkel, said: "We have always said we don't want the taxpayers to have to step in for struggling banks and we now have a common regulatory body, which is currently being developed at the European Central Bank.
"But this regulator alone is not enough. Of course we need a common mechanism closing down failing banks, if banks should come into difficulties."
The ministers' overall aim is to form a banking union that would give European authorities the powers to supervise banks, and wind them up when necessary.
The banking crisis forced a number of European governments to spend large sums of money supporting banks whose lending had turned bad.
Over the main years of the crisis, European governments spent 1.5 trillion euros (£1.3tn; $2tn) propping up the banks.