Lloyds Banking Group share sale 'lost taxpayers £230m'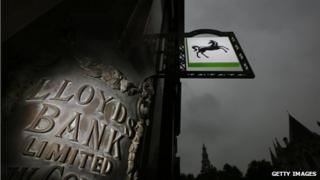 UK taxpayers lost £230m when a part of the semi-nationalised Lloyds Banking Group was returned to the private sector, the National Audit Office (NAO) has said.
The figure takes into account the interest costs associated with the £20bn bailout for the bank in 2009.
But the NAO concluded that the share sale was managed effectively and provided value for money.
The September sale of the 6% stake to institutional investors raised £3.2bn.
The government still has a 32.7% stake in the banking group but wants to return it to full private ownership by the next general election in 2015.
Price of stability
NAO head Amyas Morse said that UK Financial Investments (UKFI), which managed the sale for the Treasury, got its timing right.
"The sale took place when the shares were trading close to a 12-month high and at the upper end of estimates for the fair value of the business," he said.
Restricting the stake sale to institutional investors helped speed the process up, the NAO said.
The shares were sold for 75p each, slightly above the 73.6p the government paid.
At the time, Chancellor George Osborne told the BBC that selling the stake at that price represented "a profit for taxpayers, and rightly so - the money will be used to reduce the national debt by over half a billion pounds".
Despite the overall loss on the deal, the NAO said this should be seen as part of the cost of securing financial stability during the crisis.
Peter Hahn of Cass Business School told the BBC: "We saved the financial system."
The Financial Secretary to the Treasury, Sajid Javid, said: "As the National Audit Office's report says, 'this first sale represents value for money' and it was 'managed very effectively'.
"The proceeds from the sale have reduced the national debt by over half a billion pounds, but as the NAO also rightly points out the country has had to pay a high price for the extra debt it has taken on because of the financial crisis."