Australia eyes $90m jobs package after Holden decision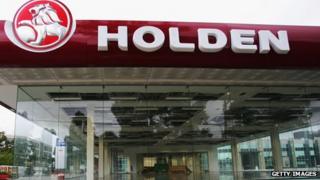 Australia has announced plans to set up a A$100m ($90m; £55m) fund to create jobs in states affected by Holden's decision to stop making cars there.
Holden, a subsidiary of General Motors, said last week that it would stop production in Australia by 2017.
The move will result in 2,900 people losing their jobs in the states of Victoria and South Australia.
There have been fears that Holden's decision may impact growth and result in job losses in related sectors.
The federal government will contribute A$60m to the fund, with the Victorian state government putting in A$12m.
Prime Minister Tony Abbott said he hoped that Holden would contribute $20m and that he would also be asking for a contribution from South Australia "in the same order as Victoria's".
However, South Australia has criticised the package, calling it "manifestly inadequate".
No subsidies?
Carmakers in Australia have struggled in recent times, despite the government extending support to the industry over the past few years.
High manufacturing costs, a relatively small domestic market and a strengthening currency have all hurt the sector.
A strong Australian dollar, which has risen nearly 30% against the US dollar over the past five years, has been one of the biggest issues.
It has made foreign cars more affordable for Australian consumers, hurting domestic carmakers. According to some estimates, imported cars now account for nearly 85% of sales in Australia.
Earlier this year, US carmaker Ford announced that it would stop production in Australia from 2016. Holden's decision last week would leave Toyota as the only firm making cars in the country from 2017.
There are concerns that the Japanese firm may decide to leave as well.
Such worries have prompted calls for the government to take fresh steps to help the sector, not least because any such move from Toyota is likely to have an impact on related industries such as car parts manufacturing.
However, Mr Abbott said that while the government was looking to help, it was not keen on providing direct subsidies.
"We don't want to see corporate welfare, what we want to see is a country which has got the economic fundamentals right," he said.
"Government's job is to foster the muscles and the sinews and bones of our economy, if you like, so that the private sector can add the bulk.
"This government will be very loath to consider requests for subsidies," he added.