Carney says house price boom is 'manageable'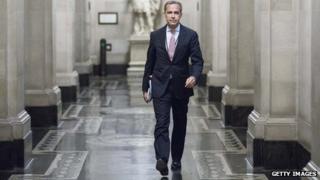 Any potential bubble in the UK housing market is "manageable" according to Bank of England governor Mark Carney.
He said the bank is acting in a "graduated and proportionate way" to stop the housing market getting out of control.
He told the Lords Economic Affairs Committee that the strength of the recovery has exceeded expectations.
The UK economy grew 0.8% in the third quarter, and business surveys see further growth in the fourth quarter.
Mr Carney sought to reassure members of the committee about the housing market, as prices continue to rise not just in London but in many parts of the UK.
"In its most recent Financial Stability Report the FPC (Financial Policy Committee) paid particular attention to the risks posed by the recovery in the UK housing market. These risks are manageable and are being managed," he said.
Recent economic growth means that "barring further shocks" there was no prospect of further quantitative easing, he said.
Debt concern
However, he warned that unless the public and private debt situation in the UK improved, and unless an economic recovery in Europe took hold, then the recovery may be less robust than the current growth rate suggests.
Mr Carney defended his policy of forward guidance - a promise not to consider raising interest rates until the unemployment rate has reached 7%.
"My experience, having met more than 300 businesses around the country, is that business people understand forward guidance well," said Mr Carney.
Earlier this month the governor said that he was concerned about "potential developments" in the UK housing market.
'Warp speed'
In a recent speech made in New York, he said the Bank could change mortgage rules to prevent the housing market getting out of control.
"There is a history of things shifting in the UK and the housing market of moving from stall speed to warp speed and underwriting standards slipping. So we want to avoid that," Mr Carney said.
In his testimony on Tuesday to the Lords Economic Affairs Committee, Mr Carney questioned the economist Larry Summers' theory of secular stagnation in the economies of the developed world.
He said there needs to be a "degree of scepticism" when applying Summers' theory of a possible reduction in the capacity of the UK economy.