RBS saves £320m after exiting £8bn insurance policy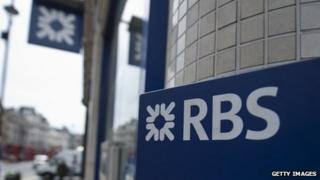 Royal Bank of Scotland has left an £8bn government insurance scheme designed to bolster the bank's financial strength.
The bank had been paying £320m a year for the government guarantee, agreed four years ago as a backstop against a further erosion of its capital.
BBC business editor Robert Peston said exiting the Contingent Capital Facility (CCF) was a "rare bit of good news" for the bank.
The CCF agreement was initially for five years.
RBS will now not have to pay next year's final instalment.
The bank, 81% state-owned following its near-collapse at the height of the financial crisis, said it has now strengthened it capital position and that the Bank of England's Prudential Regulatory Authority had approved its exit from the CCF.
The BBC's Robert Peston said the CCF "was an arrangement which meant that RBS could be confident of receiving £8bn from the Treasury if is capital was eroded in a dangerous way by losses".
"But it was very expensive," he said. "RBS will now not have to pay next year's £320m - and this year's profits will be boosted by that amount."
He said it was good news for RBS, coming after a period in which it has been hit by the latest in a series of embarrassing IT meltdowns as well as a $100m (£61m) fine over sanctions-busting allegations.
The bank has also faced claims that it drove distressed firms to collapse to buy back their assets at rock-bottom prices.
It had entered into the CCF arrangement as part of the Asset Protection Scheme (APS). It exited the APS in October last year after, having paid a total of £2.5bn since February 2009.