PMI surveys raise fears that France may be back in recession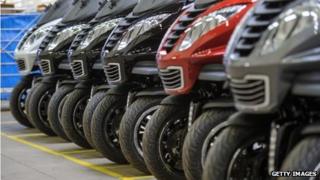 The eurozone's recovery is continuing, a survey of businesses has suggested, but it has also revealed a widening divergence in economic performance between France and Germany.
The latest purchasing managers' index (PMI) from Markit rose to 52.1 in December from 51.7 last month. A figure above 50 indicates expansion.
The eurozone as a whole has started to grow again after a long recession.
But Markit's Chris Williamson said the recovery was "lopsided".
These monthly surveys of business managers give an early indication of countries' economic performance.
Germany's solid PMI reading of 55.2 underlines the country's central role in driving the improvement across the region.
The country's manufacturing industry continued to gain new orders after a rather weak start to the year. The services sector also continued to expand.
Triple dip?
France was a very different story, with its PMI reading falling to a seven-month low of 47.0. The figure suggests an accelerating contraction, and point to a decline in economic activity for the current three-month period.
If that is confirmed by data for gross domestic product, GDP, that would be the second consecutive quarter of falling production of goods and services in France.
In other words, a recession as the term is often used. It would be the second in rapid succession.
The economy of France contracted in the final quarter of last year and the first three months of 2013. It grew for just one quarter before going back into decline.
If this really is another recession that France is in now, it would make it what some call a triple dip. The first phase was the recession at the height of the global financial crisis.
In the case of France, that lasted a full year, with growth only returning in the third quarter of 2009. GDP is still about 0.3% lower than it was in the beginning of 2008, just before that first recession. Germany, by contrast is now 2.6% ahead.
The most obvious and damaging manifestation of this weakness in France is unemployment. Just under 11% of those who want to work can't find a job. It's not the worst in the eurozone but is much higher than Germany.
The figures released by Markit are preliminary - the company calls it a flash estimate. The final numbers, to be published next month, come from a survey of 5,000 firms across the eurozone. Markit says the flash figure is typically based on 85% to 90% of total responses.