Plastic bag charge backed by convenience stores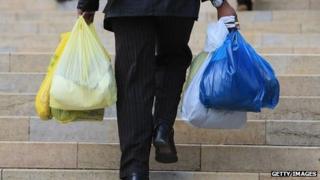 The trade body for small shops says it wants a plastic bag charge to be applied to its members in England as well as to large stores.
The Association of Convenience Stores (ACS) has written to the Environmental Audit Committee, calling for local shops to be included in the scheme.
England is due to follow Wales and introduce the charge in 2015, but only for firms with more than 250 workers.
The ACS said many of its 33,500 members were keen to be part of the scheme.
Positive role
The Environmental Audit Committee's inquiry followed the announcement that a levy on single-use plastic bags would be introduced in England from autumn 2015, but that businesses with fewer than 250 employees would be excluded from it.
ACS public affairs director Shane Brennan, said: "Retailers in Wales are already seeing the benefit of the carrier bag levy that has been in place there since 2011.
"Not only have they been able to save money, but it's also a positive way of having a greater part to play in the community."
The 5p charge in Wales has led to sharp drop in the number of plastic bags issued.
Charges applied elsewhere, for example in the Republic of Ireland and in Northern Ireland, have had a similar impact.
Scotland is bringing in a 5p charge next year.
Some English retailers are already charging for bags on a voluntary basis, with money taken going towards community projects, including local schools and charities.
Although ACS wants to be part of the scheme it wants to be excluded from the need to report back on bag sales to government, which it says would be too great a regulatory burden on small stores.
The European Commission says individuals get through 500 bags a year.
It is planning to take action to curb their use and is proposing a new directive that would force countries to chose one of three methods of cutting the use of plastic bags, either by charging, implementing a national reduction target or an outright ban.