Peugeot shares fall as General Motors sells its shareholding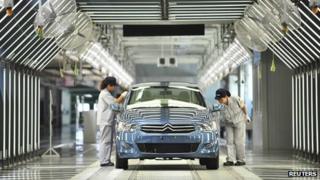 Shares in PSA Peugeot Citroen have closed down 12% after General Motors sold the 7% stake in the French carmaker that it bought last year.
However, the US carmaker insisted that its industrial partnership with Peugeot was strong.
Peugeot, hit hard during the global downturn, is pursuing a tie-up with China's Dongfeng Motor Group.
On Thursday, Peugeot took a 1.1bn-euro ($1.5bn; £0.9bn) write-down on its struggling overseas operations.
Peugeot and Dongfeng are in talks about extending their existing Chinese partnership to other Asian markets, backed by a share issue in which the French state and Dongfeng would take matching stakes in Peugeot.
The French carmaker said discussions were at "preliminary stage", with no guarantee of a successful conclusion.
Asked on a French radio station on Friday if the state would take part in the capital increase, French Industry Minister Arnaud Montebourg said: "I cannot answer your question. Will the question arise? Without doubt. But for now, let the companies discuss between themselves."
He added: "The red line is that PSA will remain French. That is our position."
Representatives of the French government, Peugeot and Dongfeng met Chinese officials in late November.
Some analysts have speculated that GM's sale of its stake is part of a deal to pave the way for the Dongfeng agreement.
GM bought its stake in Peugeot in February last year, aiming to develop a global alliance that would see them develop cars together.
The stake made GM the second biggest shareholder in the French firm after the Peugeot family.
The two have been sharing knowledge in engineering development and design.