Ford to hire 11,000 workers in US and Asia in 2014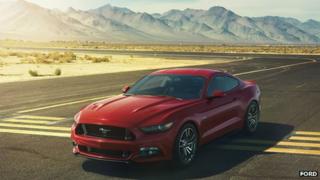 Ford has announced plans to hire 11,000 workers in the US and Asia in 2014 as part of a global expansion plan.
Ford intends to launch 23 new vehicles around the world next year, more than double the number released in 2013.
The company says it will be the fastest expansion in 50 years, and includes the new Lincoln MKC and all-new Transit family of commercial vehicles.
About 5,000 workers will be hired in the US and 6,000 in Asia, where Ford is opening two plants in China next year.
The recruitment drive represents an increase of close to 7% of Ford's total workforce and is the biggest hiring push the firm has made since 2000.
Ford's president of the Americas, John Hinrichs, made the announcement at an event introducing a new research vehicle testing driverless technology.
Among Ford's new offerings in 2014 are a revamped Mustang sports car, which is celebrating its 50th anniversary next year, and a Lincoln MKC small utility.
"This is the fastest and most aggressive manufacturing expansion the company has undergone in 50 years," said John Fleming, executive vice president, Ford global manufacturing.
"The last time Ford was growing like this, Dwight D. Eisenhower was the US president."
Next year, Ford is due to open its Changan Ford Assembly Plant and Changan Transmission Plant in Chongqing, China, as well as Camacari Engine Plant in Brazil.
The new Chongqing Assembly Plant will increase the company's production capacity in China by 300,000 units next year.