Expensive calls to customer helplines to end in 2014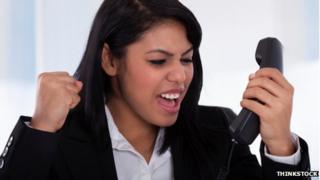 Customers who call companies to complain about faulty goods will no longer have to pay high charges, the government has announced.
At the moment, consumers can pay up to 41p a minute to phone customer helplines.
While some companies do not charge for such calls, others use chargeable numbers with the prefix 084 or 087.
Typically, they are used by airlines, train operators and High Street or online retailers.
From June 2014, anyone calling to complain about a faulty microwave or incorrect train ticket will only have to pay the basic rate.
Many companies "lure in" new customers with a freephone - or an 0800 number - but once goods have been bought, they make customers pay to call.
A two minute call to an 084 number can cost up to 36p if using a landline, or 82p if using a mobile.
"From next year, if something goes wrong with a cooker or commuters want a refund on their season ticket, they will now pay the same to phone a helpline as they do to call friends or family," said Consumer Minister Jo Swinson.
The new regulations will not include financial service companies.
However, the Financial Conduct Authority is considering whether to introduce similar restrictions when people call banks or insurance companies.
Some banks, including Barclays and RBS, have already promised to switch to basic rate customer helplines.
Online shoppers
The changes will be contained in the Consumer Rights Directive, which will be on the statute books from Friday, but which will become law in June 2014.
Under that directive, consumers who shop online will have more time to change their minds.
The Distance Selling Regulations currently give shoppers seven working days to decide whether they wish to keep items bought online, or whether they would like to return them.
From June 2014 customers will have 14 days to change their mind, starting from the day when they receive the goods.
It will also be against the law for online sites to "pre-tick" boxes, that could result in consumers paying for something they do not want.
Online retailers will also benefit from the new regulations, which will make it clear that consumers have to return goods before they can get a refund, or else provide proof of postage.
Businesses will also be able to deduct money from refunds, where there is evidence that a returned item has been used.