UK house price predictions for 2014
By Kevin Peachey
Personal finance reporter, BBC News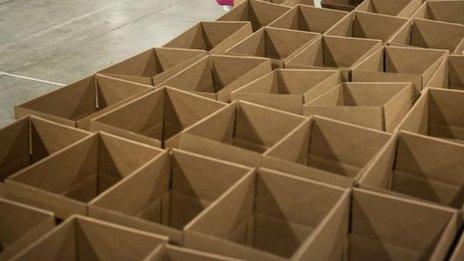 If you move home, you are going to need boxes - and plenty of them.
So the mood of a packaging supplier should give some impression of the vitality of the UK housing market.
Patrick Sheehy, sales director at PHS Teacrate, says that 2013 was a year of recovery for the packaging business and the housing market.
The biggest dip, he says, was in 2011 - but things have picked up since, although they are not back to the boom years of 2006 and 2007.
Movers, he explains, are searching for value for money. Cardboard boxes and brown tape are still the products of choice for most people packing up to move house, but many are renting crates. This gives them certainty regarding the cost, making it easier to budget during a time of considerable expense.
Mr Sheehy says there is more activity than usual over winter. Staff have been known to take time off in December, but they have stayed to supply plenty of movers this time.
So, is this acceleration in activity likely to continue throughout 2014, and what will this mean for house prices?
The interactive content on this page requires JavaScript
Ray Boulger, of mortgage broker John Charcol, says that he expects an 8% rise in house prices in 2014, based on the Halifax and Nationwide indexes.
This would match the kind of annual increases seen at the end of 2013, which he admits would have been a surprise for anyone studying the market at the start of 2013.
He says that two schemes to stimulate the housing market "moved the goalposts" during the year.
They were the Funding for Lending scheme, which offers cheap funds to lenders under the proviso that this is then lent on to mortgage borrowers and small businesses, and the Help to Buy scheme.
The former is being restricted to just small business lending, but the latter has been extended, giving borrowers access to mortgages if they are able to afford the repayments, but have little to put down as a deposit.
Mr Boulger says that there is no great shortage of funding. He predicts that this will be borrowed by people buying homes across the UK - not just in London, which drove the increase in average prices in 2013.
"There is a ripple effect, so next year, I do not see London as having the biggest regional rise in house prices," he says.
That is not a view shared by housing market commentator Henry Pryor. He predicts that house prices will go up by 5% nationally in 2014, but rise by 8% within the M25 motorway.
There is, he suggests, little appetite among politicians to put the brakes on the housing market.
"Next year, the coalition [government's] ambition is that the housing market goes from strength to strength ahead of the next election," he says.
The result is that homeowners will see the kind of prices that neighbouring homes are being sold for, tempting them to put their property up for sale.
Price rises in 2013 were the result, in part, of a lack of supply, so this could even out a little in 2014. Yet, Mr Pryor still predicts a "buoyant" London market.
Ed Stansfield, chief property economist at Capital Economics, says he too expects London to be "at the front of the pack" when it comes to house price rises. Overseas investment in London property means this market differs from the rest of the country.
Despite the distinction, he predicts price rises of 4% to 5% on average across the UK next year.
He points out that rising house prices will not be greeted with "universal glee", and the Bank of England has tools at its disposal to cool the market.
However, he says that these tools are untested. It is not clear how the market would cope with an increase in interest rates, the traditional way to control runaway prices.
The Royal Institution of Chartered Surveyors, with members including estate agents, says that it is dangerous to see the UK market as a single entity.
It is predicting an 8% rise in house prices nationally in 2014, but this ranges from an 11% rise in London to a 5% increase in the North East of England. It expects the cost of renting a home to go up by 2%.
Miles Shipside, director of property website Rightmove, says he expects prices to rise by 6% to 8% in 2014, depending on the decisions made by potential sellers.
"A good and plentiful choice of property for sale would limit sellers from getting over-ambitious with their asking prices and result in a national average increase closer to 6%," he says.
Martin Ellis, of the Halifax, makes a similar prediction of a 4% to 8% rise, owing to a continued economic recovery and low interest rates.
All these predictions of price rises should ring a warning bell, with many local housing markets already overheated, according to Prof James Mitchell.
The economics professor from Warwick University says that most regions of the UK are already in a house price bubble.
"The results raise the risk, although not the certainty, that house prices will fall, although predicting the timing and manner of any fall is even harder than identifying the presence of a bubble," he says.
"But a bubble it appears to be and we should all - householders, business people and policymakers alike - be alert to this risk."
Related Internet Links
The BBC is not responsible for the content of external sites.