Earnings rise slower than inflation for fifth year running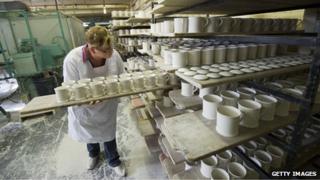 Average earnings in the UK have risen by less than the rate of inflation for the fifth year running, according to the Office for National Statistics (ONS).
In the year ending April 2013, the ONS said pre-tax pay reached £27,000 a year, an increase of 2.1% over 2012.
However, inflation over the same period, as measured by the Consumer Prices Index (CPI), was 2.4%.
The figures show that workers continue to see a squeeze in their pay.
In the ten years before 2008, earnings increased faster than inflation, providing a real increase in living standards.
On the other hand, average weekly earnings in 2012/13 increased by the largest amount since 2008.
The median weekly income for full-time employees was £517, a rise of 2.2%.
Gender gap
In a reversal of the previous trend, the gap between men's and women's earnings increased to 10%. In 2012, the gap was 9.5%.
It is the first time in five years that men's earnings have risen faster than women's.
"This year has seen a shock rise in the gender pay gap after years of slow, steady progress," said Frances O'Grady, the general secretary of the TUC.
"Ministers should be ashamed of presiding over this latest dismal record on pay," she said.
However those working part-time did relatively better than those working full-time. Part-time pay rose by 3.1% over the year, outpacing inflation.
Women continued to be paid better than men in part-time jobs.
On average part-time women earn £164 a week, compared to £149 for men.
Undertakers
Of specific professions, farmers did best, with their pay increasing by 22%. The nation's undertakers also did well, with earnings rising by 20%.
Others who had a good year included travel agents (up 17.3%), barristers and judges (up 15.7%) , TV engineers (up 13.2%) and social scientists (up 13.1%).
The group that did worst was workers in the glass and ceramics industries. They saw pay fall by 13% between April 2012 and April 2013, the ONS figures showed.
Others who experienced a comparatively large cut in earnings included cooks (down 9.5%) and library clerks (down 8.2%).