Australia prime minister holds Toyota talks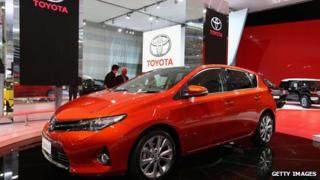 Australia's government is holding talks with Toyota in an effort to convince the firm to continue manufacturing cars in the country.
The talks come after Holden, a General Motors subsidiary, said it would stop making cars in Australia from 2017.
That would leave the Japanese company as the only firm making cars there.
Toyota has said Holden's decision will put "unprecedented pressure" on its ability to make cars in Australia, stoking fears that it might also leave.
Australian Prime Minister Tony Abbott said he had spoken to the head of Toyota's Australian unit, Max Yasuda.
"Obviously, the government will be talking to Toyota," Mr Abbott told Australian network Channel Nine. "We want Toyota to continue."
He added: "They are in a slightly different position to Holden.
"Much more of their local production has been for export. Toyota locally have been much more integrated into the global operations of the company, it seems, than with Holden," Mr Abbott said.
Major impact
Holden cited a strengthening Australian currency, high manufacturing costs and a small domestic market as the reasons for its decision.
A strong currency has been one of the biggest issues for carmakers with a presence in Australia in recent years.
The Australian dollar has risen nearly 30% against the US dollar over the past five years, making foreign-made cars cheaper for Australian consumers.
According to various estimates, nearly 85% of cars sold in the country are imported.
Earlier this year, US carmaker Ford announced that it would stop producing cars in Australia from 2016.
There are growing concerns that if Toyota decides to leave as well, it will have a big impact on the overall industry and result in thousands of job losses.
Some 33,000 people employed in the automotive components sector in Australia would also be affected, according to the Australian Broadcast Corporation.
On Wednesday, Holden said its move would result in 2,900 people losing their jobs.
Labor opposition shadow treasurer Chris Bowen said Holden's move would have far reaching implications.
"The loss in tax revenue, the unemployment payments right across the board will see the Australian government revenues hit, and potentially hit hard," he said.