Royal Mail to join FTSE 100 after share price surge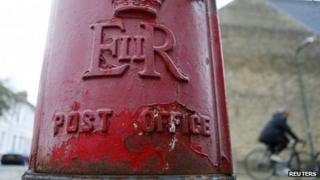 Royal Mail, the newly-privatised postal service, will be joining the FTSE 100 index of blue-chip companies.
The company's share price has surged more than 80% since its first day of public trading on 15 October, giving it a market capitalisation of nearly £6bn.
The privatisation was controversial and opposed by the Communication Workers Union (CWU), even though employees were given shares in the company.
Critics say Royal Mail was undervalued by the government.
Announcing its periodic rebalancing of the FTSE 100 constituents, FTSE Group said Royal Mail's promotion to the big league would take effect from Monday 23 December.
One-off windfall
Ashtead Group, the construction equipment company, will also join the index, while Croda International and Vedanta Resources will be bounced down to FTSE 250 index, it said.
Royal Mail's flotation share price of 330p is now approaching 600p, boosted by strong investor demand for the stock.
In November, Royal Mail reported pre-tax profits of £233m for the six months to 29 September, up from £94m a year earlier, excluding exceptional items.
But the company said a one-off windfall resulting from a pension reform meant overall pre-tax profits were actually £1.58bn.
The company was given a further boost when it reached an agreement with the CWU earlier this month over pay, pensions and other issues, averting a planned Christmas strike by union members.
The FTSE Group finalised its reshuffle of the FTSE's biggest 100 companies after the markets closed on Wednesday.
Royal Mail's chief executive, Moya Greene, will become one of just four female FTSE 100 bosses.
She will join Easyjet's Carolyn McCall, Imperial Tobacco's Alison Cooper, and Severn Trent's Liv Garfield, who is due to take up her post in spring 2014.
Burberry's Angela Ahrendts, one of the current crop of female FTSE 100 bosses, is leaving to join technology giant, Apple.