Archbishop Welby meets energy bosses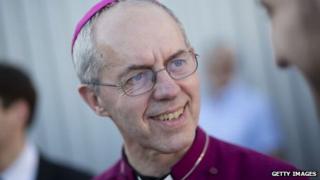 The Archbishop of Canterbury, Justin Welby, has met bosses from four of the UK's "big six" energy companies.
The meeting comes just weeks after he criticised recent price rises.
EOn's chief executive Tony Cocker, RWE npower's Paul Massara, Centrica's Sam Laidlaw and EDF's Vincent de Rivaz all went to meet the Archbishop.
At a recent government energy and climate change committee hearing, only one of the chief executives of the big six energy bosses was in attendance.
Keith Anderson, Scottish Power's chief executive could not attend Tuesday's event, but the company said other dates had been provided.
SSE's boss Alistair Phillips-Davies similarly could not attend the meeting.
It is understood that where an alternative senior company figure was offered, this was declined.
SSE said in a statement: "SSE understands the pressures on households due to rising energy prices and we are always happy to engage with anyone who wants to get involved in finding ways to reduce the impact of energy price pressures on customers.
"We extend an open invitation for the Archbishop of Canterbury to meet with our team and staff."
'Inexplicable'
In a statement about the meeting, Lambeth Palace said: "'The Archbishop of Canterbury today welcomed a small group of senior representatives from the energy industry to hear their perspectives on social responsibility around the energy supply sector."
Sources added that discussions were "warm and open" and that the group spoke for nearly an hour.
In October, the Archbishop told the Daily Mail he understood people who found the latest price rises "inexplicable".
The former oil executive said companies had to "justify fully" their actions.
"I do understand when people feel that this is inexplicable, and I can understand people being angry about it, because having spent years on a low income as a clergyman, I know what it is like when your household budget is blown apart by a significant extra fuel bill and your anxiety levels become very high," he said.