FirstGroup rejects Greyhound bus sell-off proposal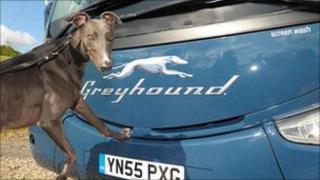 UK rail and bus firm FirstGroup has rejected a break-up plan from one of its shareholders to sell its US assets.
Hedge fund Sandell Asset Management wants FirstGroup to sell its Greyhound trans-American bus service and school bus business to help pay down debt.
But First Group said in a statement that the plan was "not compelling" and had "flaws and inaccuracies".
First Group saw its shares tumble this year after it raised £615m and cancelled its dividend.
Problems also meant the UK government was forced to reverse its decision to award FirstGroup the West Coast mainline rail franchise.
FirstGroup said that it had "engaged" with Sandell several times over the proposal. Sandell owns about 3% of FirstGroup.
The UK company acquired Greyhound and the school buses business after its acquisition of Laidlaw in 2007. However, the deal saddled FirstGroup with debt.
The company said on Wednesday that it was focused on the execution of its current strategy, set out in May, which "will deliver superior value for shareholders compared to alternatives that were considered in detail earlier this year, and which remain under review".
Last week, FirstGroup announced the appointment of John McFarlane as chairman following a six-month search.
It reported half-year pre-tax losses of £8m last month, although this was a marked improvement on the £20.6m loss seen a year earlier.
The group, which operates First Great Western, First Capital Connect and First ScotRail, said recently it was getting back on track and hoped to start repaying dividends from the close of its financial year.
The company is investing £1.6bn into a four-year investment programme and tackling debts of nearly £2bn.