Boeing wins $6.5bn Air Canada order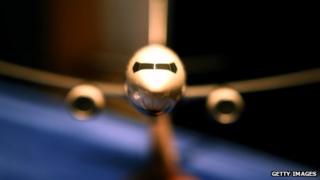 Air Canada has ordered 61 Boeing 737 MAX planes worth $6.5bn (£4.2bn) at list prices, a big win for the planemaker over its rival, Airbus.
The planes will replace its current fleet of Airbus narrow-body aircraft.
Air Canada said the new planes will help it cut fuel and maintenance costs on a per-seat basis by more than 20%.
Airlines have been keen to upgrade their fleets to more fuel-efficient aircraft amid high fuel prices and falling profit margins.
"Renewal of our North American narrow-body fleet with more fuel efficient aircraft is a key element of our ongoing cost transformation programme," Calin Rovinescu, chief executive of Air Canada, said in a statement.
'Vote of confidence'
The rising demand for fuel-efficient aircraft has triggered competition among planemakers as they fight for a bigger share of the growing market.
The 100-200 seat narrow-body - or single-aisle - aircraft market is forecast to generate $20 trillion (£12.8tn) over the next 20 years.
The sector is currently dominated by Airbus's A320 and Boeing's 737 aircraft.
Air Canada's order includes options and rights to purchase 48 additional Boeing planes.
The airline said it was also evaluating the potential replacement of its Embraer E190 fleet with "more cost efficient, larger narrow-body aircraft that are better suited to its current and future network strategy".
Analysts said that Air Canada's decision to opt for Boeing planes to replace the existing Airbus fleet was a major endorsement for the US firm.
"It's a strong vote of confidence in the 737 MAX," said Chris Murray, an analyst at AltaCorp Capital.