Christian finds his business calling in Bethlehem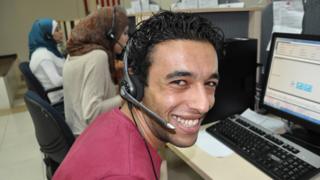 With the Christmas season upon us, the city of Bethlehem in the Palestinian territories is starting to get its much-needed annual economic boost from an influx of tourists and Christian pilgrims.
As thousands of visitors are already descending upon the place regarded by Christians to be where Jesus Christ was born, their spending - be it on food and drink, accommodation, or just souvenirs - helps to create some additional - albeit temporary - employment.
For a city that mirrors the general West Bank unemployment rate of 24%, it's a key time of the year.
Yet not far from the Church of the Nativity, and the giant sparkly Christmas tree in Manger Square, is a start-up company which aims to create 200 permanent, year-round, jobs in the city.
Located on a non-descript road on the outskirts, it is not a business that most of us would associate with Bethlehem. Yet there it is - a modern call centre.
It is the brainchild of a UK social entrepreneur, Jerry Marshall, who has been working to help boost the Palestinian economy since the 1990s.
He says: "Supporting the Palestinian economy ultimately supports peace. If people have a job, a hope, a future, they are less likely to become violent extremists."
Emotional connection
Mr Marshall, 56, says he had long felt an attachment to the region. He puts this down to spending the first 13 years of his life in Kuwait, where his father worked in the oil industry.
He first visited the West Bank in 1994, when he was working as a business consultant.
"When I got to the West Bank I felt I had gone home," says Mr Marshall. "The battered Mercedes, the honking horns, Palestine in the 1990s was like Kuwait in the 1950s. I really felt that emotional connection."
The Oslo Accords peace framework between Israel and the Palestine Liberation Organization had been signed a year earlier, and there was renewed optimism that a final deal could be achieved between the two sides.
On those first trips to the West Bank, Mr Marshall worked with a number of companies in Bethlehem to help boost their exports. As well as giving advice, he helped them secure UK government funding via the British Consulate.
But Mr Marshall did not return until the end of 2004 after the hopes of Oslo unravelled and violence flared again in the territories.
When he did go back, Mr Marshall enlisted the help of a Palestinian businessman and an American call-centre veteran, Russell Sandlin, and launched the unlikely business in 2012.
They raised $100,000 (£61,000) between them and secured a bank loan for a similar amount. A further $100,000 came from what many would consider an unusual source under the circumstances - the Dutch government.
Well educated staff
Mr Marshall explains: "None of us are Dutch, so it may raise some eyebrows, but the Dutch government has a fund to support the Palestinian economy, and anyone in Europe can apply. This money was vital, as money was very tight to begin with."
With an office secured in Bethlehem's industrial zone, the company - named Transcend Support - needed staff who could speak both Arabic and English.
"And this was very easy - young people here are tremendously well educated, and speak excellent English," says Mr Marshall. "We started with 30 people, all university graduates in their 20s, and a 50-50 male and female mix."
But winning contracts proved more of a challenge.
Eventually the call centre secured a major contract from Kuwait-based Wataniya Telecom, and work for other companies has followed.
Extra investment has also been forthcoming, with the Palestine Investment Fund taking a 42% stake. Mr Marshall says this has put the business on a secure financial footing.
It is increasing staff to 50, with the hope that it will eventually grow to 200. Mr Marshall would also like ultimately to open a second call centre in the Gaza Strip.
He says the company has back-up electricity generators and wireless phone and broadband links in case of problems with Palestinian networks.
Mr Marshall admits deciding whether to take work from Israeli companies is a difficult challenge.
"We have good relations with Israeli telecoms firms, but there would be people in Palestine against this, because they don't want people to forget the occupation; they don't want [the situation] to be normalised.
"But most Palestinians recognise the need to work with Israelis, and many Israelis are incredibly supportive of the business."
'Stupidly risky'
Mr Marshall's CV includes a number of start-up companies and charities in the UK, including a customer-research business and a charity to help disadvantaged people in Coventry, near where he lives.
Yet he says the call centre is what gives him the most pride by far.
"Setting up a call centre in Bethlehem was a stupidly risky thing to do," he says.
"But as a Christian I find that I do take more risks. It may sound daft, but I got God's guidance that opening the call centre was the right thing to do.
"And we have created a real business that has created real jobs, which Bethlehem, and the West Bank and Gaza in general, certainly need more of."