Gap between goods exports and imports narrows in October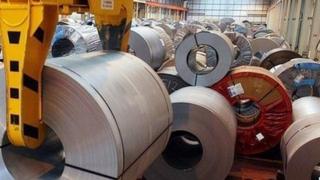 The gap between imports and exports of goods narrowed in October, according to the Office for National Statistics (ONS).
The ONS said the goods trade deficit narrowed to £9.7bn, compared with £10.1bn in September.
Including services, in which the UK traditionally has a surplus, the overall trade deficit was unchanged from September at £2.6bn.
Separate ONS data brought positive news from the manufacturing sector.
The ONS said the UK Index of production, one of the key components of gross domestic product, grew by 0.4% in the month, in line with forecasts. Compared with October 2012 it was up 3.2%.
The manufacturing of transport equipment was the biggest force behind the increase.
The rise marks a slowdown from the 0.9% rise in September when production bounced back from a weak August, the ONS said.
ING economist Rob Carnell said the data was positive. "This will provide a robust starting point for the fourth quarter and bodes well for fourth quarter GDP if not undermined by the service sector - which we think unlikely," he added.