The costs of Christmas past and Christmas present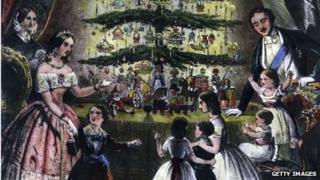 Christmas as we know it in 2013, with its tear-jerking adverts on television, online shopping bonanza, and parade of "must-have" toys and gifts, may seem a very commercial and modern business.
However, many Christmas traditions that dominate the modern British home are not new at all.
From the bauble-bedecked tree, to the crackers, the presents and roast dinner, the "commercialisation" of Christmas has its roots firmly in mid-Victorian Britain.
But while for many Victorians, nuts and dried fruit would have been the typical presents hanging from the tree, this year UK households will spend around £22.3bn on Christmas and families will splash out a very large-sounding £599 each on gifts alone, according to a YouGov survey.
YouGov also found that the average planned spend on food and drink will be £180, and on cards, trees and decorations £43.
So what do we owe to the Victorians as we gear up for the big day, and how much did a Victorian household expect to spend on their festivities?
Show off with beef
Of course the cost of various things in Victorian Britain bears no relation to the modern day. Rent and fuel was very cheap by modern standards, and there was a vast difference in wages between labourers and the emerging middle and upper-middle classes.
But what is the same is that for the Victorian, Christmas food itself was a luxury item, much as it is now.
Food historian Dr Annie Gray says that the meat was very much the main event, and the type of meat on a Victorian table depended often on where in the country a family lived.
"The meat to show off with was beef," she says.
'Poor man's protein'
For a less wealthy family, perhaps that of a junior clerk, earning as little as £100 a year in the mid-Victorian era, beef and turkey were far beyond even a special occasion budget.
More likely, if in London and the South of England, the family would start the meal with oysters. While considered a luxury for many now, oysters in Victorian London were known as "the poor man's protein".
Charles Dickens's character from The Pickwick Papers, Sam Weller, even says, "Poverty and oysters always seem to go together."
The goose was also the meat centrepiece for a less well-off family where beef or turkey were beyond reach.
As the traditional British rhyme says:
"Christmas is coming, the geese are getting fat
"Please put a penny in the old man's hat
"If you haven't got a penny, a ha'penny will do
"If you haven't got a ha'penny then God bless you!"
A week's wages
Food, and indeed giving were in vogue from the 1840s.
Plum pudding, and mince pies were also fashionable at the Victorian Christmas table. Sweet chestnuts, Dr Gray adds, were used as "ice cream, set cream, in stuffing, or as an accompaniment" for the meal.
"A classic mid-Victorian meal was three to five courses, with four to eight dishes in each, set on the table all at once with diners choosing their favourite dishes.
"By the end, a more linear service style had come in, but the dish variety and order remained roughly the same," she says.
How much might this have cost?
According to the 1844 play A Christmas Carol/The Miser's Warning (a theatre adaptation by CZ Barnett of the Dickens novel) the character Bob Cratchit would have spent a week's wages to buy the ingredients for the basic Christmas feast.
That would be seven shillings for the goose, five for the pudding, and three for the onions, sage and oranges.
So that's the food. But what about the rest?
The first Christmas card - 'a flop'
In 1843 the first commercially produced Christmas card was launched. It cost a shilling - an extremely high price at the time. (Incidentally, 1843 was also the year that Dickens published A Christmas Carol.)
Tim Travis, a curator at the Victoria and Albert Museum, where the original card produced by Sir Henry Cole is kept, says the one shilling Christmas card would have been "roughly a day's wage for a labourer". It was, he says a "commercial flop".
"Christmas cards didn't really take off for another 20 years or so after that when mass production brought the price down," says Mr Travis.
But the practice of sending Christmas cards became affordable and fashionable for many and by 1880 over 11 million Christmas cards were printed. The introduction of penny postage meant that sending a card became the "done thing", and cards often showed jolly images of families indulging in Christmas culinary delights.
Now the UK Christmas card market is still robust, and though it has fallen away in the past few years due to email, the Greetings Cards Association estimates that a total of around 900 million festive cards were sold in 2012, worth around £364m.
'Delight in the tree'
Many of our modern traditions and expenses were brought over from Germany by Queen Victoria's husband, Prince Albert.
In 1848 a print showing the royal couple with their children next to a fir tree was published in the Illustrated London News. The Prince had written in 1847 that his children should "delight in the Christmas tree".
The tree became the must-have item in any fashionable festive home, and still is. Around six million live fir trees are sold for Christmas in Britain, according to the Forestry Commission.
A bang!
Crackers were invented by Tom Smith in 1847.
The London sweetmaker originally planned to wrap sweets in coloured paper, inspired by trips to Paris where he saw such treats. But another version, with mottos, hats and toys proved much more popular, and the cracker as we know it was born.
Today, British cracker making company Swantex produces 25 million a year. Some estimate that each household in the UK will spend upwards of £20 on crackers at Christmas.
A lot to thank the Victorians for, and perhaps, when looking at New Year bank balances, to lament.