Retailers warn over Scottish costs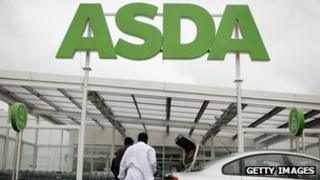 Some of the UK's biggest supermarkets may consider increasing their prices north of the border, should Scotland vote for independence next year.
Both Asda and Morrisons said the cost of doing business was higher in Scotland than in the rest of the UK.
The chief executive of Asda has also said an independent Scotland might be a less attractive place to invest.
However, the Scottish government said proposed lower taxes would make Scotland more competitive.
"The cost of doing business in different parts of the country does vary," said Andy Clarke, the chief executive of Asda.
Supermarkets face higher distribution costs in Scotland, in addition to a public health levy on shops that sell alcohol and tobacco.
That levy, on business rates, costs the supermarkets around £30m a year.
"If the regulatory environment was to increase the burden of the cost structure on business, that would potentially have to be passed through to consumer pricing, because why should the English and Welsh consumer subsidise this increased cost of doing business in Scotland?" Morrisons said in a statement.
'Pressure'
Andy Clarke suggested Asda, owned by the US giant Walmart, might be more reluctant to expand in Scotland, if it becomes an independent country.
"A 'Yes' vote in 2014 could result in Scotland being a less attractive investment proposition for business and put further pressure on our costs," he said.
Neither Asda nor Morrisons said they had any plans to raise prices in an independent Scotland.
However, the Financial Times said one of the big four supermarkets had confirmed it might put prices up.
Prosperous
Tesco said it had no comment to make, and said it had not spoken to the Financial Times about the issue.
Likewise Sainsbury said it had 'no comment'.
Commenting on the reports, Scotland's Rural Affairs Secretary Richard Lochhead said:
"The reality is that independence will provide the means to create a prosperous economy and better business environment, one that will deliver benefits for consumers and retailers alike.
"Supermarkets operate in competition with each other, and you can be sure if one supermarket chain has higher prices - for whatever reason - then their competitors will not be slow to take advantage of that."