Greece sees end of recession in 2014 with new budget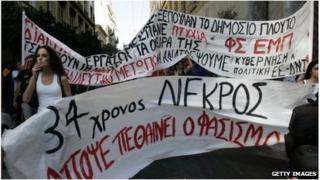 Greek lawmakers have passed the 2014 budget, which predicts a return to growth after six straight years of painful recession.
"This is the first decisive step in exiting the bailout," Prime Minister Antonis Samaras said.
Greece's economy has shrunk by nearly one-third since 2007. The budget predicts it will contract less than expected in 2013.
But the OECD says the Greek economy will shrink for another year in 2014.
Greece's 2014 budget forecasts 0.6% growth in 2014.
Mr Samaras said his government had exceeded four of five major targets it had set for 2013 - failing to bring down unemployment, which is around 27%.
The OECD group of developed economies forecasts a 0.4% contraction next year and says Greece's debt would not fall below 160% of GDP before 2020.
Since 2010, Greece has received rescue loans and in return, it has pledged to cut its debt and implement economic reforms.
Those reforms, especially to the public sector, have been slow and met with often-violent street protests, leading to exasperation from its creditors.
Jeroen Dijsselbloem, the head of the Eurogroup, said recently that "many finance ministers of the eurozone are starting to lose patience".
The bailout lenders - the eurozone, the IMF and the European Central Bank - have disputed some of the Greek government's figures, arguing that further spending cuts are needed.
Talks with delegations from the IMF and European Commission over the next round of bailout funding have been delayed and will now take place in January instead of next week.
"Technical discussions are expected to continue in Athens next week. We expect a full negotiating team to return to Athens in January, after the authorities have made further progress in implementation, with the objective of reaching a staff level agreement," an IMF spokeswoman said.