Ex-Goldman Sachs trader ordered to repay firm $118m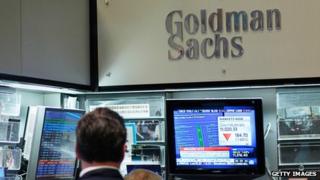 An ex-Goldman Sachs trader has been sentenced to nine months in prison and ordered to repay $188m ( £115m) over a botched 2007 trade.
The US Department of Justice (DOJ) accused Matthew Taylor of deliberately hiding an unauthorized $8.3bn trade from supervisors.
US Attorney General Preet Bharara said Mr Taylor pursued the trades out of "both greed and hubris".
Mr Taylor turned himself in eight months ago.
Goldman Sachs said it discovered Mr Taylor's concealment on 14 December 2007 and then spent $118m to unwind the position.
US Judge William Pauley agreed with prosecutors and ordered Mr Taylor to pay back the full amount.
However, he stopped short of granting the full 41 month prison term sought by the DOJ.
Mr Taylor has already been fined $500,000 by the U.S. Commodity Futures Trading Commission (CFTC) over his trading.
Goldman Sachs was forced to pay a $1.5m civil fine last year to settle separate CFTC charges that it failed to supervise Mr Taylor.