Germany raises growth forecasts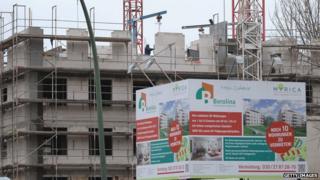 Germany's central bank, the Bundesbank, has raised its forecasts for economic growth in the country.
It announced it had raised its forecast for growth this year from 0.3% to 0.5% and for 2014 from 1.5% to 1.7%.
"The German economy is in good shape: the unemployment rate is low, employment is rising, and wage growth is returning to normal," said Bundesbank president Jens Weidmann.
The Bundesbank makes forecasts twice a year - the last set was in June.
Mr Weidmann added that low interest rates had been encouraging house building and private consumption in Germany, although trade had been weakening.
The European Central Bank cut its key interest rate from 0.5% to 0.25% a month ago, and kept it at that level at Thursday's meeting.
ECB president Mario Draghi said the eurozone's economy remained "subdued".
The Bundesbank did not make a forecast for 2015 in June, but is now predicting growth of 2.0% for that year.