Blockbuster to close more stores as 427 more jobs go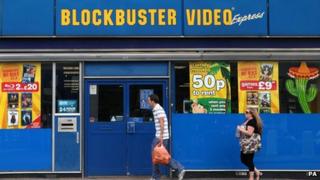 Blockbuster, the DVD and games rental chain that went into administration in January, is to close a further 62 stores with the loss of 427 jobs, the firm's administrators have said.
Moorfields Corporate Recovery said the closures were necessary after it failed to find a buyer for the company.
It estimates that all the remaining 91 stores will have to close with the potential loss of 808 jobs.
Blockbuster went into administration for a second time in October.
The rapid rise of online film streaming offered by the likes of Lovefilm and Netflix made Blockbuster's video and DVD business model practically obsolete.
The most recent closures follow on from previous closure announcements in November.
Blockbuster, the trading name of TS Operations, is currently owned by private equity firm Gordon Brothers Europe.
Moorfields said high business rates had contributed to the video company's demise.
Before its troubles began, Blockbuster had 528 stores.
Blockbuster is one of several High Street names to have come under pressure in recent times - particularly from online competitors.
Among them are camera chain Jessops, music and DVD group HMV, and electrical chain Comet.