Virgin enters Formula E electric car racing series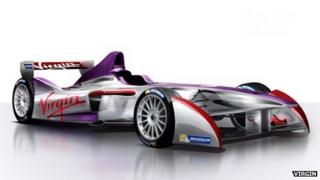 Virgin is to enter a team for the first FIA Formula E Championship, which gets out of the grids next year.
The electric racing car series will take place on purpose-built street circuits in 10 cities around the world.
The Virgin Racing Formula E Team is headed by team principal Alex Tai and has the backing of Sir Richard Branson.
The announcement means just one more team is left to be announced before the inaugural 2014/2015 season gets under way.
The championship is intending to showcase electric car technology and speed up development and innovation amongst manufacturers.
"The need to create fast, dependable and durable race cars will help to accelerate the sector and showcase electric cars to a large global audience," said Sir Richard Branson.
Big names
Formula E is the highest class of competition for one-make, single-seat, electrically-powered racing cars.
The 10 city hosts are Beijing, Putrajaya, Rio de Janeiro, Punta del Este, Buenos Aires, Los Angeles, Miami, Monte Carlo, Berlin and London.
Virgin's announcement sees its return to motor sport after a team competed in Formula 1 in 2010 and 2011.
The series starts in China in September 2014, with 10 teams, 20 drivers, and 40 cars - each team having two drivers and four cars.
The racing cars are designed and built by Spark Racing Technology and Renault. The chassis comes from Dallara, which for decades has provided some of the highest-spec racing bodies in motorsport.
Much of the technical wizardry inside the cars is from two big names in F1 - McLaren and Williams. And the tyres have been specially developed by Michelin.
Sponsors - or partners - already signed up include US technology group Qualcomm, transport giant DHL, and Tag Heuer, best known for its luxury watches.