Tennis investment serving up fun for fans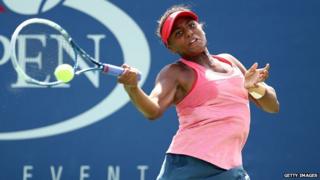 The combination of tennis and money may bring to mind the multi-million deals of star players such as Roger Federer or Maria Sharapova - but for keen fans looking for a more modest financial involvement in the game, there are opportunities.
Investment sums for the tennis lover can be from a few pounds up to six figure sums.
For example, taking part in crowdfunding to support a cash-strapped up-and-coming tennis player allows anyone with modest sums to get involved.
Backers give players money to help with their development and expenses, and in return can get things like private lessons, telephone chats, or memorabilia and merchandise.
'Make a difference'
One such site putting together fans with spare cash and players is InvolvedFan.com.
Run by Miami-based Dan Nagler, it states: "Fans and athletes can come together to help the athlete succeed while strengthening the fan-athlete relationship."
It offers tennis lovers the financial opportunity to "make a difference" to tennis players who are short of resources.
Players seeking backing come from around the world, and include Julia Glushko, one of Israel's top female players and currently ranked 90 globally. She retired hurt from last week's qualifiers for the Australian Open.
A donation of £30 will bring a signed thank-you card for your money, and splashing out about £600 to support Julia will get you her autographed match-used racquet.
Further down the scale, you could back Andrew Fitzpatrick, 13th ranked British male player, who in return for £60 will be happy to call you on the phone to discuss your tennis game.
Others seeking backing include highly rated up-and-coming US junior players, sisters Tornado Ali Black and Hurricane Tyra Black.
For £300 Tornado - one of the top junior players in the world - will provide backers with a private tennis lesson.
This type of arrangement brings a payment-in-kind - in terms of a relationship or memorabilia with the player you choose to back - rather than riches.
Prime Wimbledon seats
Another investment that can help tennis development and bring enjoyment to the keen fan - albeit costing quite a bit more money - is an All England Lawn Tennis Club debenture for the Centre Court at Wimbledon.
These are issued every five years to raise funds for capital projects at the venue, and cash from the next tranche of debentures, which go on sale this year, will be used towards a roof for Court One.
The present debenture issue, covering the five-year period from 2011 to 2015, raised some £55m for the AELTC and went towards the Centre Court roof.
However debentures do not come cheap. The current debentures went on sale at £27,500 in 2009 and the next batch - set to come to market this spring - will almost certainly be priced higher.
Debenture holders receive a ticket for a seat on Centre Court for each day of the Wimbledon championships, and access to other facilities such as bars, restaurants and car parks.
"If you look around Wimbledon, we can - and have - improved the infrastructure and facilities with the money that we get from debenture sales," says Johnny Perkins, of the AELTC.
"It is a way of satisfying a certain market, and at the same time raises money without recourse to public expenditure. It is a virtuous circle."
As well as providing access to must-see tennis matches, for example Andy Murray's final victory over Novak Djokovic, there are also a couple of major investment points.
The tickets that come with the debenture - unlike other Wimbledon tickets - can be legally sold on, either through the AELTC or privately.
And, like a bond, the debentures themselves can be traded, with latest sale prices listed each month in the Financial Times.
Tennis collecting
Tennis sales of another kind take place on a regular basis, namely in the form of sporting memorabilia auctions.
As well as the likes of Sotheby's and Christies, there are scores of sales around the country allowing tennis fans to combine collecting fever with a potential investment.
From old racquets, balls, and cups, to books, prints, paintings, the prices can range from a few pounds up to the hundreds of thousands.
And, for the collector in a hurry and with some £400,000-plus to spare, there is the opportunity to acquire what is considered one of the country's top tennis collections.
Thomas Black, from Keighley, West Yorkshire, comes from a family of collectors, and his passions have seen him collect golf memorabilia, share certificates and vintage cars, before turning to tennis in the past two decades.
"Tennis collecting has given me the most incredible buzz," he says. "It is a more limited market than many other sports. Old tennis racquets have not survived in the same number as golf items."
Among his collection, which covers tennis history from the 1870s, are paintings, prints, figurines and other items, as well as a rare Bussey racquet he values at five figures.
Mr Black says he is only aware of one other, at the Wimbledon museum.
At the age of 75, he now wants to make sure his collection is passed on to a good home, such as a tennis club or organisation, or a passionate fan of the sport.
He believes antique memorabilia collecting is a good investment in times of continued inflation and that any buyer of the Thomas Black Collection would see it appreciate in value.
"I have merrily built the collection up, but with collecting comes the responsibility to ensure when the time comes that your collection finds a good home," he says.
"The time is now right for me to do that."
This material is for general information only and does not constitute investment, tax, legal or other form of advice. You should not rely on this information to make (or refrain from making) any decisions. Links to external sites are for information only and do not constitute endorsement. Always obtain independent, professional advice for your own particular situation.