UK economy and Tesco diverge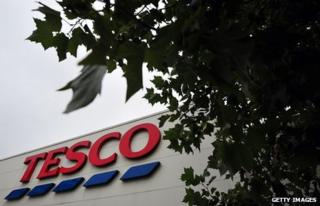 Tesco this morning announced that in the three months to 23 November, underlying or like-for-like sales in the UK were down either 1.4%, or 1.5%, or 1.6%, depending on which of the three blinkin' measures published by the giant grocer is the most reliable.
There is no point in getting into the nuances of the calculation of this measure of sales, since they all tell the same story - sales down.
Now these figures are obviously not seen by investors as a disaster, since the share price is up a bit this morning.
But at a time when rising household consumption is driving the UK's recovery, according to the official statistics, it is slightly odd perhaps that the UK's biggest retailer should be struggling.
So what is going on?
Well, Philip Clarke, Tesco's chief executive, says: "Continuing pressures on UK household finances have made the grocery market more challenging for everyone since the summer and our third quarter performance reflects this."
He's right that, on the face of it, food retailers in general seem to be having a tougher time. Earlier this week, the BRC-KPMG Retail Sales Monitor showed a fall in like-for-like sales for all food retailers of 0.4%.
However I am sure you have noticed that Tesco seems to be doing worse than the norm.
Which of course implies, given that Tesco is by far the biggest food retailer, that some food retailers are doing pretty well.
What seems to be happening is that increasingly value-conscious shoppers are drifting away from the middle ground occupied by Tesco, and going either to the out-and-out discounters, like Aldi and Lidl, or trading upmarket to the likes of Waitrose.
That would be the explanation which says Phil Clarke was dealt a difficult hand when he took over from Sir Terry Leahy as chief executive.
But even if that is right, it is not impossible to prosper in that middle ground, as Sainsbury - which has been capturing market share - has been demonstrating.
And there is another thing.
Non-food retailing is doing pretty well across the UK. According to the latest BRC survey, in the latest three month period, non-food like-for-like sales were up 1.5%, a slight deceleration from the August-to-October figures but not too shabby.
Tesco still has a substantial non-food presence, although Clarke took a decision to scale that back some time ago, and does not appear to be benefiting from the general non-food revival.
The bigger story of what's happening in the UK economy is that growth in household consumption has been driving economic recovery. In the latest quarter. the increase in household consumption delivered 0.5% of a 0.8% growth in GDP.
That implies the squeeze at Tesco may be more about the weakness at Tesco than what is happening to consumer spending and the economy in the round
Which of course doesn't resolve the question of whether, because of its history, Tesco is trapped in the squeezed middle, or whether Clarke and his team could have done more to liberate it. Are the poorish sales at Tesco a reflection of duff management or the inheritance by the newish management team of an intractable structural problem?