China files WTO complaint against US anti-dumping rule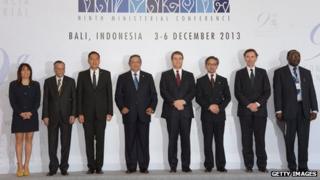 China lodged a formal complaint with the World Trade Organization (WTO) on Tuesday, challenging US accusations that it has unfairly "dumped" lower priced products in the US market.
It is the eighth complaint China has filed against US trade policy, and it comes on the first day of a WTO summit in Bali, Indonesia.
China took issue with the way the US measures price comparisons.
The US has 60 days to settle the complaint.
The WTO has already criticised the US for using a measure known as "zeroing", which calculates the import price compared to the normal value in the US to see if goods are being unfairly marked down.
In response, the US has said it has phased out that method of calculation, while maintaining its superiority.
If the US does not settle the complaint to China's liking, the WTO could be asked to adjudicate.