Pawnbroker Albemarle & Bond shares plunge on sale news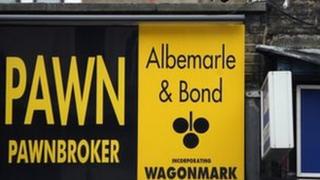 Shares in UK pawnbroker Albemarle & Bond have fallen 22% following news it has put itself up for sale amid financial troubles and a number of high-level resignations.
Last week, the firm warned on profits and said it was having to melt its own gold supplies to meet lending limits.
The business has suffered amid greater competition and a falling gold price.
The gold price has fallen 27% since March and pledges, or pawned items, have fallen 12% this year.
The company said that following last week's trading update it considered it "in the best interests of the company's shareholders to seek to sell the business".
On Monday, five directors resigned from the business, including the chairmen and members of the remuneration and audit committees.
Smelting
The company's stock market valuation, which is currently about £10m, has fallen by more than 90% since a year earlier.
It has taken a number of steps to stem losses, curbing unsecured lending, stopping online lending and undertaking "exceptional" smelting of gold stocks.
Despite this, the firm has struggled to keep within its banking facility of £53.5m, with current debts of £50.1m.
In October, Albemarle & Bond said it had failed to get support for plans to raise £35m.
Those failed plans left the company with administration costs which still have to be paid, further adding to its burden.