New Blackberry boss John Chen insists firm is 'alive'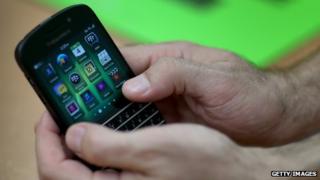 Blackberry's new boss John Chen insisted on Monday the troubled smartphone maker is still 'alive'.
In a letter to customers, he said that the company's "for sale" sign has been taken down and "we are here to stay."
He also asked customers to remain patient as he tries to reposition the firm as more than a phone maker.
BlackBerry, which was briefly for sale over the summer, recently announced massive layoffs amid slumping sales.
Demise 'greatly exaggerated'
On 4 November, the firm said it would accept a $1bn "strategic investment" from institutional investors.
This meant abandoning a planned acquisition by Fairfax Financial, which had tried to buy BlackBerry for $4.7bn (£3bn) before failing to raise enough funds.
Fairfax, which owns 10% of BlackBerry, said it contributed $250m to the financing round.
Shares in the smartphone maker plunged 16% on that news, and they're down more than 45% for the year.
As part of the financing deal, it was announced that Thorsten Heins would be replaced by Mr Chen as chief executive.
Since his appointment as interim boss, Mr Chen has issued several "open letters" to BlackBerry's customers, insisting the firm was still in business.
He also announced the departure of several of the firms top executives, and eliminated the positions of chief operating officer and chief marketing officer.
In his letter, Mr Chen said the firm was going back to its roots creating business solutions and that it was focusing on four areas: handsets, enterprise mobility management solutions, cross-platform messaging, and embedded systems.
He also affirmed BlackBerry's commitment to security, a traditional selling point of the devices, which had been used by governments across the world.
"I will keep the lines of communication open as we navigate through this transition," said Mr Chen.
"In short, reports of our death are greatly exaggerated," he insisted.