World Cup win can boost Australia rugby league growth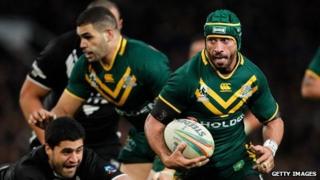 Australia's win in the Rugby League World Cup final has provided the perfect impetus for the sport to push on with its growth plans in the country, says the boss of the nation's premier club competition.
Rugby league is one of Australia's most popular sports, particularly in the east of the country, and has an image as a "people's game".
Former banker David Smith is the chief executive of the Australian Rugby League Commission, which manages the premier championship, the National Rugby League (NRL).
"We are all thrilled - Australia is a sports-mad country which likes our national teams to do well," says the Welshman, a former chief executive of Lloyds Bank in Australia.
"The international game is an important part of rugby league, and we are keen to develop the national game, and strengthen what it means to put on the green-and-gold shirt."
Girls and mums
Mr Smith says that at club level the NRL is in healthy shape - "as good as it has ever been" - with vibrant games continuing to attract large crowds and booming TV revenues.
"In our heartlands we are a very important and significant part of the community," says Mr Smith, who had an international business career spanning more than 25 years before moving into sport.
"We are a big part of Australian society - we are substantial and we are set to get bigger."
He adds: "We want to grow our sport at every level within a strong national framework, and increase the participation base to encourage people into the NRL, and into rugby league."
The NRL is providing funding to develop and strengthen the game across the wider grassroots level.
A major part of those plans includes the touch, or tag, version of the sport coming under the NRL banner, bringing in 550,000 participants, including 300,000 girls,
"Girls - and their mums - coming in means a broader base, and touch football also takes us into schools as well as into families," says the former British army engineer.
There has also been a review of how junior clubs in the country can develop the game with schools, and, he says, a much more competitive structure at that level has been put in place.
In addition, the state-based championship is to be expanded to 23 sides, and a Papua New Guinea team will compete in the 2014 Intrust Super Cup (formerly the Queensland Cup).
'Wonderful game'
Mr Smith, who took up his post this year, says the game in Australia is also conducting its biggest membership push, looking to double club members from the current 220,000 to more than 400,000 by 2017.
"Our aim is to be the biggest sports community in Australia," he says. "We will have two million participants when you include touch rugby. Our community activities probably reach another million, so three million people are in touch with the game.
"A big push for us is to be more inclusive both at participation and at fan level - we want to be representative of the community,
"It is a wonderful game, and when people are exposed to it, they want to be more involved."
On the commercial side, the NRL is committed to growing its non-broadcast revenues, from their current 28% to 50% by 2018.
The current TV rights deal is worth AU$1.2bn (£670m; $1.1bn) - the biggest TV rights deal in Australian sports history.
Meanwhile, the current salary cap, in place to create a competitive playing structure, is to be modernised, with consultation among major stakeholders currently taking place.
"We want to be modernised for the next 10 to 20 years," he says. "The salary cap has been an effective tool up until this point, it is an important foundation. Fundamentally we have to manage the clubs' salaries, while not stifling emerging talent coming through from below."
'Complex role'
During the World Cup in England he has been meeting people from football bodies, the Premier League and FA, to examine how talent is developed and the youth academy structure.
When Mr Smith took up his NRL post, there was Australian media comment focusing on the fact he did not have a background in rugby league but had played rugby union in Wales.
"I have leadership, business and organisational skills, and love of sport from the grassroots up," he says regarding this issue. "I am from a working class background and have an empathy with sports from village green level to top level.
"It is an important, big and complex role. and I am privileged to have such a significant sports administration role. I know that fans and members sit on the same side of the table as me."
He says the World Cup has been a huge success, from a playing, commercial, and publicity point of view.
"I think the crowds have been better than expected, it has been more profitable than expected, and most importantly it has raised the profile of the game," he says, adding that the emergence of nations such as Fiji and the USA have been added bonuses.
Australia and New Zealand have put in a joint bid to run the 2017 event, as has South Africa, with a hosting decision in January 2014.
"I have been part of the bid process and would be very happy to pick up the baton in 2017, but we have not got to wait for the next World Cup to take advantage of the 2013 successes.
"We have to look at strengthening some of the emerging nations, and we have got to make the most of the international fixtures we have got, to get more games on the calendar so that next time round the ability has picked up in all nations."