ANZ class action suit set to begin in Australia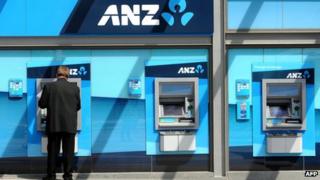 A class action suit filed against Australia and New Zealand Banking Group (ANZ), one of Australia's big four banks, is set to begin on Monday.
Some 38,000 customers have taken the bank to court over claims that it charged them "exorbitant fees".
These include 'dishonour' fees on bank accounts, as well as over- limit fees and late payment fees on credit cards.
A lawyer representing the customers estimated the total fees charged by ANZ to be around A$50m ($46m; £28m).
Andrew Watson, the head of class actions at Maurice Blackburn, the firm representing the customers, told the Australian Broadcast Corporation (ABC) that the size of fees varied, but that "$25 to $35 is the sort of range for fees that are imposed".
"So you might be a dollar over on your account, or a day late in your payment and the banks will slug you with a fee that's out of all proportion to what it costs them for that minor transgression.
"We think it's worth [in total] about A$50m," he added.
Fine v fees?
The Australian High Court ruled last year that these fees could be considered as a penalty charged by the bank.
Maurice Blackburn, said on its website that "if they're proven during the trial to constitute a penalty, rather than a fee for service, then those fees are lawfully recoverable".
The firm also claimed the bank charged very high fees for a service "that cost them only a matter or cents or a few dollars at the most to administer".
ANZ is not the only bank that is facing such a case in Australia.
Maurice Blackburn has also launched a broader class action suit involving 170,000 customers and seven other banks - the largest collective legal action in Australia.
The law firm also claims that customers "who were charged these unfair fees by the banks have signed up online to be part of the action to redeem their money plus interest, with the claim size now estimated at more than A$220m".
The banks involved in the broader class action suit are Citibank, Commonwealth Bank, National Australia Bank (NAB), St George, Westpac, BankSA and Bankwest.
"The claim against the ANZ... will be a template for the other actions," it added.