Lidl discount supermarket plans to double UK stores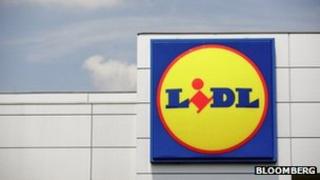 Lidl, the German discount supermarket chain, is planning to double the number of stores it has in the UK.
Lidl wants to expand from 600 stores to as many as 1,500, UK managing director Ronny Gottschlich told the Sunday Telegraph.
Lidl is planning to open at least 30 new stores a year, he said.
The retailer's sales have been increasing, in contrast to big supermarkets such as Tesco.
"We really see ourselves these days more of a supermarket than the hard discounter of the past," Mr Gottschlich said. "Those times are over."
'New era'
The newspaper reported that Lidl, which is owned by the privately-held Schwarz Group, has like-for-like sales growing at 18% a year.
The UK's biggest supermarket chain, Tesco, said its October profits fell during the first half of its financial year and its like-for-like sales declined. Tesco - which has 3,146 stores in the UK - is expected report a further drop in stores that have been open for at least a year when it reports results this week, according to analysts' forecasts,
The other "big four" supermarkets are Sainsbury's, Wal-Mart-owned Asda and Morrisons.
Lidl described its target customer as a "Maidstone mum" who was no longer ashamed to shop in the discount retailer.
"Those Maidstone Mums are no longer afraid of being seen in a Lidl store," Mr Gottschlich said.
"I actually do think we are entering a new era. It is obviously different in every country how long it could take for customers' behaviours to start changing.
"I think that people's perception in the past, and this is something that is definitely changing, is there must be something wrong with the quality of what those people at Lidl offer because they have such reasonable pricing in their stores."