GrainCorp: Australia blocks takeover bid from ADM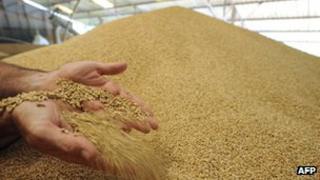 Australia has blocked US conglomerate Archer Daniels Midland's (ADM) A$3.4bn ($3.1bn; £1.9bn) takeover of GrainCorp - its biggest grain merchant.
Treasurer Joe Hockey said the proposal had attracted "a high level of concern" and an acquisition "would not be in our national interest".
Agricultural firms have become takeover targets amid rising global demand for food, especially from emerging markets.
Australia is one of the world's largest exporters of wheat.
"I consider that now is not the right time for a 100% foreign acquisition of this key Australian business," Mr Hockey was quoted as saying by the Australian Broadcast Corporation.
He added that the industry was "going through transition and now is not the right time to have all the major players foreign owned".
GrainCorp shares fell more than 20% in Sydney on the news.
Increased stake?
ADM, the world's biggest processor of corn, already owns around 20% of GrainCorp.
But its bid to fully acquire the firm had been opposed by some farm groups, who raised concerns over the impact of such a move on competition in the sector.
"Many industry participants, particularly growers in eastern Australia, have expressed concern that the proposed acquisition could reduce competition and impede growers' ability to access the grain storage, logistics and distribution network," Mr Hockey said.
However, he said he would allow ADM to increase its shareholding in GrainCorp to 24.9%.
Patricia Woertz, chief executive of ADM, said the firm was "disappointed by this decision".
"We are confident that our acquisition of GrainCorp would have created value for shareholders of ADM and GrainCorp, as well as grain growers and the Australian economy."