Marston's sells 200 pubs as full-year profits grow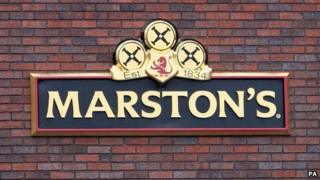 Marston's, the pub operator and independent brewer, has sold 202 pubs to NewRiver Retail for £90m.
The company said the sale was the result of a strategy to concentrate on "higher turnover pub-restaurants", rather than smaller drinks-only pubs.
Of the 202 pubs sold, 158 are from Marston's Taverns estate and 44 are leased pubs.
The news came as Marston's reported full-year pre-tax profits of £69.8m ($114m; 83.3m euros).
This compares with a £135.5m loss last year.
Group revenue rose 9% to £782.9m for the year to 5 October.
Chief executive Ralph Findlay told the BBC: "We aim to use the cash from the pub sales to build new ones. Some pubs are not matching what customers are demanding."
Marston's, whose beer brands include Brakspear, Marston's Pedigree and Hobgoblin, is engaged in a building programme and opened 22 outlets over the year.
It currently has about 2,050 pubs in its estate.
Food, not beer, has become the main reason people visit pubs, the company said.
"In 2013 we served 30 million meals, with food now the principal reason for around 80% of customer visits in our destination pubs," Mr Findlay said in a statement.
More disposals of non-restaurant pubs are therefore likely, the company said.