Kingfisher's shares hit as profits disappoint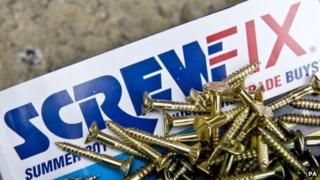 Shares in Kingfisher, the owner of DIY chains B&Q and Screwfix, have fallen 5% after the group reported lower-than-expected profits for the third quarter.
Despite "a very strong performance" from Screwfix, group chief executive Ian Cheshire said markets "remain challenging".
Group retail profit was £271m (325.6m euros) for the 13 weeks to 2 November, up 1.7% on the same period last year.
Analysts were expecting about £280m. Group sales were up 1.4% to £2.9bn.
"I remain enthusiastic about our longer-term prospects," Mr Cheshire added.
UK and Ireland sales rose 3.7% to £1.1bn over the period, helping retail profit grow 8.3% to £63m.
Screwfix saw its sales grow 21.1% - or 11.1% after stripping out the effect of new store openings - to £180m.
Its performance improved due to extended opening hours, new store openings, and "the successful introduction of a mobile click, pay and collect offer last year," the company said.
Kingfisher also owns Castorama and Brico Depot in France.
Despite France's "weak market", total sales there were up 1.9%, the company said.
Kingfisher also operates the Koctas brand, a 50% joint venture in Turkey with the Koc Group.
It also has a 21% interest in Hornbach, a German DIY retailer.