Pawnbroker Albemarle & Bond resorts to melting own gold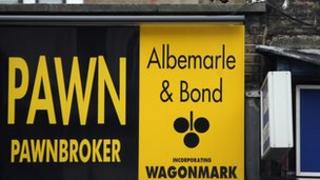 Albemarle & Bond, the UK's biggest pawnbrokers has issued a strong profits warning as tough conditions leave it melting down its own gold stocks.
The company said competition had led to a 12% fall in pledges - that is, pawned items it received over the year.
The price of gold, which is 27% down on March, had also hurt business.
It has taken a number of steps to stem losses, curbing unsecured lending, stopping online lending and undertaken "exceptional" smelting of gold stocks.
Despite this, it says it is struggling to keep within its banking facility of £53.5m, with current debts of £50.1m.
The announcement caused another steep fall in the company's shares, which closed down 38% at 25p.
The move comes after a heavy fall last month, caused when it said it had failed to get support for plans to raise £35m.
Those failed plans left the company with administration costs which still have to be paid, further adding to its burden.
Chris Gillespie, chief executive of Albemarle & Bond said there was reason to hope for better news: "Tough trading conditions have continued to impact our results, but we are making progress controlling costs and managing within our constrained banking facilities.