Yellow Pages firm Hibu in administration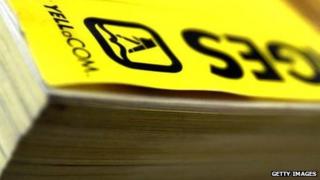 The parent company that owns Yellow Pages, Hibu, has gone into administration.
Hibu, which rebranded itself from Yell in 2012, has 12,000 employees and has been struggling with £2.3bn of debts.
The telephone directory and digital company has appointed the financial services firm Deloitte to manage the administration.
The Yellow Pages business and other subsidiaries continue to trade as normal.
A statement said the move would have no impact on Hibu's employees, customers, partners or suppliers, all of whom interact with the group subsidiaries, not with Hibu plc.
Contracts and other agreements would remain unchanged.
Debt
Hibu's debt mountain grew after several acquisitions in the past decade, amid plummeting sales because of the rise of the internet.
In July this year, lenders took control of Hibu in a restructuring deal aimed at saving jobs.
That deal cut £800m of the company's £2.3bn debts.
Creditors included George Soros' hedge fund, US private equity group Blackstone and the investment bank Deutsche Bank.
Chairman Bob Wigley said in a statement: "Our business will continue to operate as usual and will not be affected by the administration of the holding company, a planned step in the restructuring process.
He added: "Our enhanced digital product offering is growing fast and increasingly finding new customers following our recent marketing campaign."