American Airlines and US Airways merger cleared by judge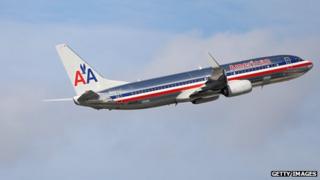 A US federal bankruptcy judge has ruled in favour of a proposed merger between US Airways and American Airlines which would form the world's biggest airline.
It was the last hurdle the two firms needed to clear for the merger to proceed.
American Airlines said it now expects the deal to be completed by 9 December.
Earlier this month, the two airlines settled an anti-trust suit brought by the US Justice Department.
The Justice Department sued to stop the merger in August, saying it would reduce competition and result in higher prices for consumers.
As part of the settlement, American Airlines and US Airways agreed to give up slots at several US airports, including Reagan National Airport in Washington DC and LaGuardia Airport in New York City.
Those slots are to be given to low-cost airline carriers like JetBlue and Southwest.
American Airlines filed for bankruptcy protection in 2011. The company says it expects to emerge out of bankruptcy once the merger is complete.
Shares in US Airways were up slightly after the ruling was announced.
On 6 December, US Airways is expected to stop trading. Then, on 9 December, the new American Airlines Group (AAL) is scheduled to start trading on the Nasdaq exchange.