Hewlett-Packard shares jump 7% on enterprise division profit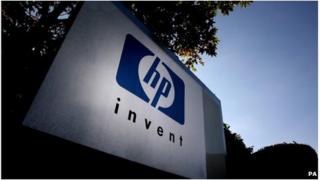 The veteran computer firm Hewlett-Packard saw its shares jump 7% in after hours' trading on results that suggest its enterprise division will make up for falling PC sales.
HP's fourth-quarter revenue fell 3% to $29.1bn (£18bn), about half the size of the fall expected.
Revenue at the key enterprise group rose and income was $2bn.
The 70-year-old company has struggled to keep up with shifting consumer demand for smaller, portable devices.
Its Enterprise Group revenue was up 2% on the same period last year, with a 14.5% operating margin.
Chief executive Meg Whitman, who took over in 2011, said in a statement: "Through improved execution, strong cost management, and with the support of our customers and partners, HP ended fiscal 2013 on a high note."
She added that these results showed that HP's turnaround remained on track.
Previously Ms Whitman warned that the firm, which has been laying off tens of thousands of staff, was "unlikely" to see revenue growth next year.
Her comments came as the firm reported an 8% decline in revenue for the quarter ending 31 July, from a year ago.
HP was displaced by China's Lenovo as the world's top PC maker last year.