Ofgem attacks record and profits of energy suppliers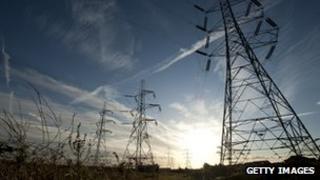 The energy regulator Ofgem has launched a scathing attack on the record and profits of the big gas and electricity suppliers.
Andrew Wright, the acting chief executive of Ofgem, said there was a "deep distrust of anything the energy companies do or say".
Mr Wright was speaking to MPs on the Energy and Climate Change Committee.
"It is not surprising that consumers jump to the conclusion that prices are being driven by profiteering," he said.
On Monday, Ofgem published data showing that profit margins in the industry had risen from 2.8% in 2011, to 4.3% in 2012.
Centrica, the owner of British Gas, had the highest profit margin, at 6.6%.
Average energy bills rose by £168 in 2012.
"Customers are not convinced that the price increases they see are either fair or justified," said Mr Wright.
'Toothless tiger'
Energy UK, which represents the supply companies, said the figures did not take into account the huge investment the energy companies were making.
It said household bills had gone up because of the wholesale cost of gas and electricity, as well as other add-ons, such as social and environmental levies.
When asked about increasing profit margins in the industry, Mr Wright told MPs: "I have not said that this level of profit is right or acceptable. Nor have I approved it."
Ofgem figures also show that profit margins in the power generation side of the industry have fallen, from 24% in 2011 to 20% in 2012.
Mr Wright denied suggestions that Ofgem was a "toothless tiger".
He said Ofgem could control prices directly, should parliament decide to change the regulatory framework.
"We think that companies need to earn the profits they make, by providing good efficient service, reducing costs, improving performance and winning customers.
"They should have no entitlement to any [particular] level of profit," he said.